Suicide bomber kills 17 in Russia's North Ossetia
A suicide bomber killed 17 people at a market in Russia's North Ossetia on Thursday, the latest evidence of a resurgent Islamist insurgency in the area.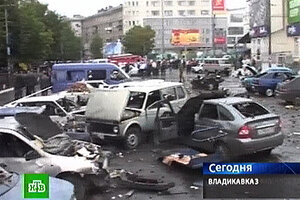 NTV Russian Channel/AP
A suicide bomber detonated an explosives-packed Volga sedan at the entrance to a crowded marketplace at midday Thursday in Vladikavkaz, capital of the volatile north Caucasus republic of North Ossetia, killing 17 people and injuring 123.
Russian TV news showed the jumbled wreckage of burned-out cars and smashed market stalls in the wake of the bomb, which experts said
was equal to 40 kilograms of TNT and packed with nails and ball bearings (Russian news video).
Officials appear in little doubt that the attack is the latest in a string of increasingly bold actions by resurgent Islamist militants who have frequently struck targets in mainly Christian, pro-Moscow North Ossetia in the past.
The worst such attack came six years ago, when militants seized a North Ossetian school in Beslan with more than 1,000 hostages. Russian troops stormed the school three days later and more than 330 people, half children, died amid the ensuing mayhem.
The region's other six ethnic republics are mainly Muslim by tradition, and all are increasingly shaken by a small but growing Islamist insurgency.
---