Germany finishes paying WWI reparations, ending century of 'guilt'
Few people in Germany noted the country's final $94 million WWI reparations payment on Sunday. Some historians say that's for the best.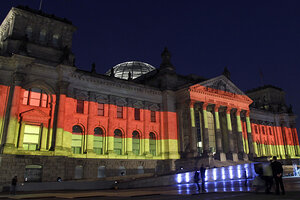 Michael Sohn/AP
To some historians, World War I ended Sunday.
Amid the news headlines marking the 20th anniversary of German reunification, the country quietly finished paying the last of its debt stemming from reparations imposed by the Versailles Peace Treaty more than 92 years ago.
"It's a symbol. It marks the end of World War I," says Ursula Rombeck-Jaschinski, a professor of modern history at Heinrich-Heine University in Düsseldorf. "It shows that Germany is prepared to pay back its debts after 92 years. More importantly, it also shows that Germany today is a totally different Germany than it was in the 1920s and 1930s."
Today Germany has a robust economy and is a model of financial stability, far from the heavily indebted nation that once ran up inflation and shrugged off creditors. While the last payment connected with the reparations passed virtually unnoticed here Sunday, for some Germans and many historians it marked the symbolic closing of a highly controversial treaty that ended one war and laid the foundation of another.
Seeds of Hitler's rise
The so-called "guilt clause" of the 1919 Treaty of Versailles placed full blame for the war on Germany and ordered reparations of 132 billion German marks (roughly $400 billion in today's dollars). The debt fed a cycle of hyperinflation that pushed Germany to the brink of financial collapse.
---