Violent turn to French strikes could backfire on union protesters
French strikes over pension reforms turned violent today as hard-line elements from an oil-workers union vowed to press on.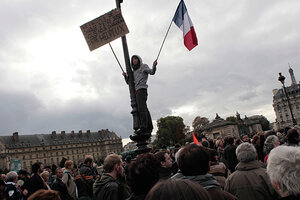 Thibault Camus/AP
Strikes and protests in France were inconclusive on a day that was expected to help determine the strength of a movement against pension reform that has become a visceral harangue against the Sarkozy administration.
But brinkmanship by hard-core oil refinery workers, who say they will not relent until the government abandons its plan to raise the retirement age from 60 to 62, is raising concern among small business leaders, trucking firms, and airport administrators. A crisis meeting was called at the French Élysée Palace today to address the problem of energy shortages.
Some 4,000 of 12,500 gas stations are now out of fuel, said Jean-Louis Borloo, the French energy minister. Jet fuel shortages and airport and Air France staff walkouts brought cancellations to 30 percent of international flights and 50 percent of domestic flights across the country, Agence France-Presse reports. The transport branch of the CGT labor union vowed to blockade French airports on Wednesday.
RELATED: Europe's 5 most generous pension systems
French police today reported slightly more than 1 million marchers around the country, with increased activity in cities like Toulouse, Rennes, and Marseilles. In Paris, a smaller, peaceful crowd dutifully marched.
---