WikiLeaks ready to drop a bombshell on Russia. But will Russians get to read about it?
WikiLeaks is about to release documents on Russia, but the tightly-controlled Russian media is unlikely to report them the way Western media attacked the documents about Afghanistan and Iraq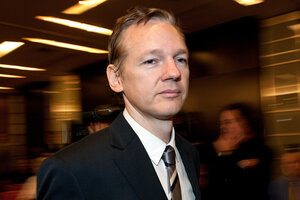 Leon Neal/AFP Photo/Newscom
The Kremlin had better brace itself for a coming wave of WikiLeaks disclosures about Russia, the website's founder, Julian Assange, told a leading Moscow newspaper Tuesday.
"We have [compromising materials] about Russia, about your government and businessmen," Mr. Assange told the pro-government daily Izvestia. "But not as much as we'd like... We will publish these materials soon."
He then dropped a hint that's likely to be nervously parsed in Russia's corridors of power: "We are helped by the Americans, who pass on a lot of material about Russia," to WikiLeaks, he said.
FIVE BOMBSHELLS from WikiLeaks' Iraq war documents
Russian security experts say there probably won't be anything comparable to the huge archives of US military secrets from the wars in Afghanistan and Iraq that the website has recently published.
'A lot of interesting facts' about Russia
---