After Khordokovsky verdict, taking stock of business and corruption in Russia
Russia lashed out Tuesday at Western leaders who voiced their concern over Monday's conviction of Russian tycoon Mikhail Khodorkovsky.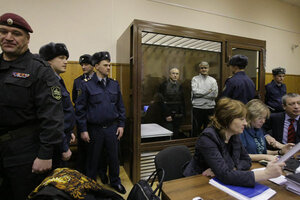 Alexander Zemlianichenko Jr./AP
There will be no new year's present for Mikhail Khodorkovsky, who parlayed Communist Party connections and well-placed friends into Russia's largest post-Soviet fortune before crossing Vladimir Putin seven years ago and ending up in a Siberian labor camp.
Yesterday, Mr. Khodorkovsky and his business partner, Platon Lebedev – who have both spent the past seven years behind bars on fraud and tax evasion charges – were convicted of embezzling $27 billion from Yukos, the oil company they cobbled together from Soviet-era assets that made their fortunes, and are now facing another six years in jail.
The politically-tinged case against the men has drawn international ire, perhaps nowhere more so than from the US. Secretary of State Hillary Clinton issued a statement yesterday saying the latest conviction brings up "serious questions about selective prosecution – and about the rule of law being overshadowed by political considerations." Germany called the conviction a setback for Russian democracy.
All this had Moscow lashing out in turn today, with the Russian Foreign Ministry saying everyone should "mind his own business, both at home and in the international arena... We are talking about serious allegations of tax evasion... In the US, by the way, they earn life sentences in prison."
---