Portugal bond sale offers respite for debt-ridden nation
A Portugal bond sale today raised $1.6 billion for a country that many have expected will follow Ireland and Greece in receiving an economic bailout.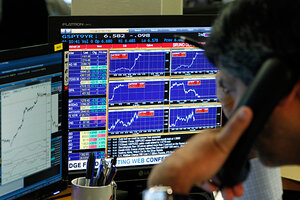 Armando Franca/AP
A closely watched Portuguese bond sale proved successful today, offering Lisbon and the eurozone a brief respite from expectations that it will follow Greece and Ireland in requesting an economic bailout.
The sale raised $1.6 billion for Portugal as the euro rose against the dollar in trading Wednesday – two rare bits of good economic news for Europe.
Yet many analysts say Portugal's large deficit and lack of immediate growth capacity mean that its bond victory only delays the prospect of bailout, which many worry could cause a "domino effect" that will put larger deficit-addled states like Spain and Italy in serious financial straits.
Indeed, Spain and Italy will hold their own bond offerings tomorrow that will be seen as significant economic bellwethers.
The Portuguese bond auction was "a success," says Philippe Waechter, chief economist of Natixis Asset Management in Paris. "But it is only the first stage. Tomorrow Spain and Italy will have to issue more bonds. In fact, during 2011 ... a lot of money will have to be borrowed by eurozone members, and it is not sure there will be enough lenders."
---