Russian Orthodox Church calls for dress code, says miniskirts cause 'madness'
In a sign of the growing political ambitions of the Russian Orthodox Church, a top official wants a national dress code for men and women. It would forbid men from wearing T-shirts or track suits in public. Islamic groups have come out in support of the idea.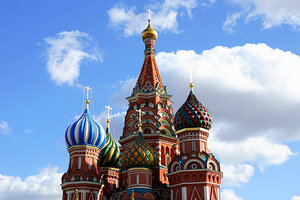 Newscom
A top official of the increasingly powerful Russian Orthodox Church has triggered a storm of outrage by calling for a "national dress code" that would force women to dress modestly in public and require businesses to throw out "indecently" clad customers.
Women, said Archpriest Vsevolod Chaplin, can't be trusted to clothe themselves properly.
"It is wrong to think that women should decide themselves what they can wear in public places or at work," he said Tuesday. "If a woman dresses like a prostitute, her colleagues must have the right to tell her that."
"Moreover," Archpriest Chaplin added, "if a woman dresses and acts indecently, this is a direct route to unhappiness, one-night stands, brief marriages followed by rat-like divorces, ruined lives of children, and madness."
Signal of church's political ambitions
Critics say the proposal signals the growing political ambition of the Russian Orthodox Church, which has lately enjoyed great success in forcing the Kremlin to hand back hundreds of churches and monasteries, along with thousands of religious artifacts, that had formerly belonged to state museums.
The church has also weighed in on artistic matters. It has publicly backed a series of lawsuits against Moscow's Sakharov Museum, which it accused of displaying "blasphemous" work in two separate art exhibits over recent years.
---