Goodbye Lenin? Russians consider burying former Soviet leader's corpse (finally).
The body of former Soviet leader Vladimir Lenin has been on display in downtown Moscow for 87 years. A growing number of Russians appear finally willing to bury him.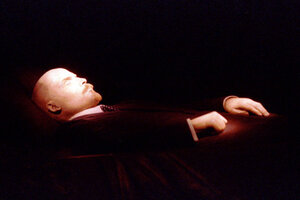 Peter Andrews/Reuters/File
The mummified body of Soviet founding father Vladimir Lenin, preserved under glass in a black granite mausoleum on Red Square since his death in 1924, was the holiest shrine in the former USSR, a place of pilgrimage for thousands every day. It remains one of downtown Moscow's most popular tourist attractions.
But now a leading member of the ruling United Russia party, Vladimir Medinsky, says it's time to remove the Bolshevik icon from his highly symbolic perch beneath the Kremlin wall and, at long last, bury him.
Last week Mr. Medinsky launched an online survey on an official United Russia website, asking Russians if they agreed (the URL is www.goodbyelenin.ru). Of more than 300,000 Russians who voted, 69 percent agreed that it's time to bury Lenin.
Though the poll is hardly scientific, the results seem likely to bolster Medinsky's case that removing Lenin from the mausoleum and interring him with his mother in St. Petersburg – as was his wish – is finally politically feasible after two decades of raging controversy.
"Lenin is a very controversial figure and his role as the focus of a necropolis at the heart of our country is absurd," Medinsky said. "[The communists] wanted to create a substitute religion based on Lenin's cult, but they failed. It's time to finish with this."
---