Germany – the new mini-superpower
As its economic clout rises, Germany sheds its postwar identity, becoming more assertive in Europe and the world.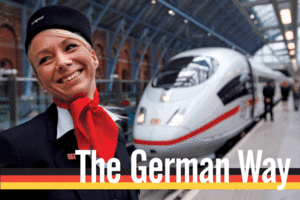 Reuters photo/John Kehe illustration
Berlin and Chemnitz, Germany
Quietly at first but less so now, Germany is breaking out of its postwar identity – the assumptions and understandings that held it in place for 60 years. Germany is shedding the past, busting old taboos and being more assertive. What an evolving Germany will look like in 20 or even five years is unclear, but will have profound consequences for Europe and the West. Much of the recent breakout is due to a rising German industrial base achieved by elbow grease, niche market savvy, and, as is often said here, by "doing our homework."
Germans have looked around lately to find they have the preeminent world-class export economy in Europe. No one else comes close. German precision tools are coveted in Asia and Russia like Fabergé eggs. Germany is building much of the Summer Olympic and World Cup facilities in Brazil. The next generation of Eurostar trains linking the Continent and Britain will be made by Siemens of Germany, not, as they traditionally have been, by Alstom of France – a blow to French pride.
---