Can Russia rival the X-37B space plane with its own robotic spacecraft?
The head of Russia's Space Forces hinted that Russia may develop a space plane similar to the US Air Force's secretive unmanned X-37B, which was sucessfully flight-tested last year.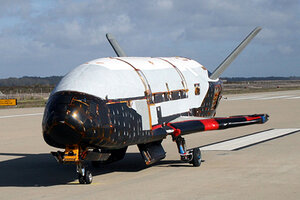 US Air Force/AP/File
Russia's reviving space industry might be working on its own version of the US Air Force's reusable unmanned space plane. After all, Russian space experts seemed surprised, a little alarmed, and possibly in awe of the American X-37B when it was successfully flight-tested from Cape Canaveral Air Force Station on April 22.
The head of Russia's Space Forces, Lt. Gen. Oleg Ostapenko, dropped a tantalizing hint last week that suggested that Russian researchers were working on a similar design.
"Something has been done along these lines, but as to whether we will use it, only time will tell," General Ostapenko was quoted by the official RIA-Novosti agency as saying.
The American X-37B, which spent seven months in orbit doing secret research before returning last December, is a remotely controlled, scaled-down space shuttle-like craft that appears to be dedicated mainly to military tasks.
Most Russian media coverage about the mini-shuttle was dominated by fear. Would the US use the enhanced orbital capabilities the space plane makes possible to undercut Russia's national security? Would the X-37B threaten Russian satellites or even install space-based antimissile weapons?
---