John Demjanjuk could be final Nazi tried for war crimes
John Demjanjuk, a 91-year-old former Ohio auto worker, was convicted in Germany's Munich district court for contributing to the death of thousands of Jews during World War II. But he was freed due to his age and time served.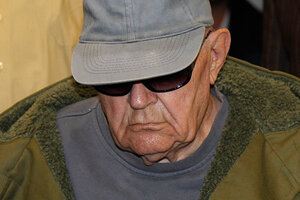 Matthias Schrader/AP
In what could be one of the final lawsuits against Nazi war criminals, the Munich district court today convicted John Demjanjuk for his part in the Nazi killing machinery.
As a prison guard at the camp Sobibor in Poland, Mr. Demjanjuk, now 91, had been a willing part in the mass murder of 27,900 Jews, said Judge Ralph Alt.
Even though he was sentenced to five years in prison, Judge Alt ruled that Demjanjuk should be freed because of his age and the two years he already spent in custody.
Efraim Zuroff, who directs the Jerusalem office of the Simon Wiesenthal Center, which has documented Nazi atrocities and tracked down war criminals, says he was thrilled when he heard the verdict, but deeply disappointed when Demjanjuk was set free. "A terrible decision," says Mr. Zuroff. "He belongs in prison!"
During World War II, the Ukrainian-born Demjanjuk was drafted into the Soviet Red Army but was later taken prisoner by the Germans, who in 1943 used him as an auxiliary guard – a travniki – according to the prosecution. He later emigrated to the United States, where he lived outside Cleveland and retired after a career as an auto worker.
---