Is Georgia on the brink of a 'day of rage'?
A lack of economic progress may help account for mounting protests against Georgian President Mikhael Saakashvili. On Sunday, police used tear gas and rubber bullets to break up a mostly peaceful rally. A 'day of rage' is slated for May 25.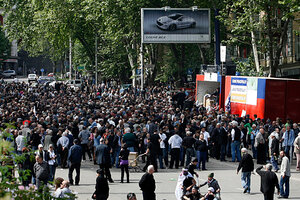 Shakh Aivazov/AP
After three days of sometimes violent street demonstrations, Georgian opposition leaders on Monday promised a "day of rage" on May 25 that will sweep away President Mikhael Saakashvili – who has withstood similar protest waves against his controversial seven-year rule in the past.
Irakli Okruashvili, a former Defense minister who turned against Mr. Saakashvili and is wanted by Georgian authorities, has pledged to end his four-year exile in France and return Wednesday to lead what he has openly suggested could include a military mutiny to overthrow the regime.
"I can promise you two things: that I will be in Georgia on May 25 and that this day will be the last one for this government," Mr. Okruashvili told the Georgian TV news channel Maestro on Sunday.
The Public Assembly, a coalition of opposition groups, chose Wednesday – the day before Georgia celebrates Independence Day – as a day to highlight their grievances against Saakashvili, which include his autocratic style of governance, failure to improve living standards, and what appears to be the permanent loss of the Georgian territories of Abhkazia and South Ossetia following a disastrous 2008 war with Russia.
But after Georgian police used truncheons, tear gas, and rubber bullets to break up a mostly peaceful rally of 2,000 outside Georgia's public TV studios on Sunday, leaving several people injured, the coalition's most prominent leader, Nino Burzhanadze, warned that the mood of protest is growing restless.
---
Follow Stories Like This
Get the Monitor stories you care about delivered to your inbox.