G8 gives unpopular host Nicolas Sarkozy a platform to polish his image
French President Nicolas Sarkozy is keen to show leadership prowess at the two-day Deauville summit ahead of 2012 elections in France.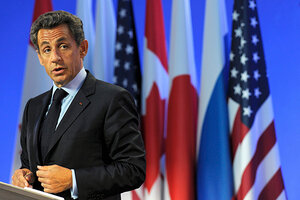 Philippe Wojazer/Reuters
Leaders of the G8 countries are discussing a wide range of issues at their two-day meeting in the French beach resort of Deauville: the Arab Spring, nuclear energy, International Monetary Fund leadership, and rules and regulations for the Internet.
One item is not on the official agenda, but no less important for G8 host Nicolas Sarkozy, is the French leader's need to boost his chances for reelection next year.
"Mr. Sarkozy is under no illusions about his popularity in France – it's low," says Philippe Moreau Defarges of the French Institute for International Relations IFRI. "Even though the French don't care much about the G8 summit, it's an opportunity for him to show himself as a leader."
Mr. Sarkozy is probably aware that his image needs some polishing. France's initial reaction to the uprising in Tunisia and Egypt was seen as highly embarrassing: Initially it stood by the dictators Zine El Abidine Ben Ali and Hosni Mubarak; former French Foreign Minister Michèle Alliot-Marie even offered the Tunisian government help in quelling the rebellion.
---