Russia hails European ruling that politics didn't drive Khodorkovsky jailing
Imprisoned Russian oligarch Mikhail Khodorkovsky was dealt a blow this week when the European Court of Human Rights declined to rule that his prosecution for fraud was Kremlin-manipulated.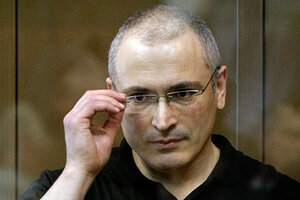 Misha Japaridze/AP
Jailed oil tycoon Mikhail Khodorkovsky, in the midst of petitioning Russian authorities for parole, suffered a setback this week when the European Court of Human Rights declined to rule that the case that sent him to prison on charges of fraud and tax evasion was orchestrated by the Kremlin.
The court's decision Tuesday also concluded that Mr. Khodorkovsky's arrest almost eight years ago on a Siberian airstrip was illegal, and that he was subsequently held in "inhumane and degrading" conditions, and awarded him $35,000 in damages from the Russian government.
But the claim that Khodorkovsky's prosecution on criminal charges was a thinly veiled effort by the Kremlin to dispense with a political threat – the central point for Khodorkovsky's defenders – was not upheld.
"The Court admits that the applicant's case may raise a certain suspicion as to the real intent of the authorities," the Court ruling said. But "claims of political motivation behind prosecution require incontestable proof, which has not been presented," it added.
Russian authorities hailed that decision Wednesday as vindication of their longstanding argument that Khodorkovsky – who acquired his oil empire Yukos through shady privatizations with the aid of Kremlin cronies in the 1990s – is just an ordinary white-collar criminal who donned the mantle of a political prisoner to win sympathy in the West.
---