Is Saab finally out of gas?
The struggling Swedish automaker doesn't have enough cash to pay its 3,800 factory workers this month.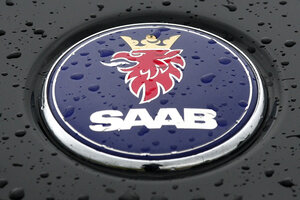 Bob Strong/Reuters/File
Swedish car manufacturer Saab cannot pay this month's wages to its some 3,800 factory employees because of a lack of "necessary short-term funding," its parent company announced Thursday, signaling another financial setback for the cash-strapped automaker.
Saab said it was in ongoing discussions with "various parties to obtain short-term funding" to pay workers at its factory in western Sweden. "There can however be no assurance that these discussions will be successful or that the necessary funding will be obtained," the Netherlands-based Swedish Automobile, Saab's owner, said in a statement.
The troubled company has suffered several economic hurdles lately, including halted production at its plant, dwindling coffers, and poor sales.
After spending more than 20 years under General Motors management, a struggling Saab stalled after Swedish Automobile (previously called Spyker Cars) bought the car maker in 2010. Saab sold only about 31,000 cars in 2010 compared with 95,000 in 2008.
---