Greek austerity squeaks through, but budget woes remain
The Greek Parliament passed an austerity package today, but the possibility of default still looms.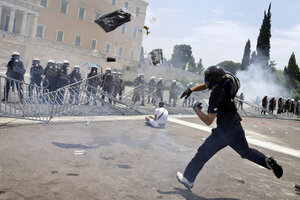 Petros Giannakouris/AP
Greek lawmakers under terrific urging from European Union officials today voted 155 to 148 to accept a package of austerity necessary to avert a government default and avoid a feared chain reaction of market turmoil around Europe and the world.
Markets were optimistic before today's vote that Greek politicians would ignore a howling public that polls as high as 80 percent opposed to the $40 billion in government spending cuts and tax hikes that are the price of the international bailout that's staving off default. Other struggling "peripheral" euro-zone members, including Ireland, Portugal, Spain and Italy, are anxious not to suffer the negative market consequences of a Greek default.
The current Greek crisis, the second in slightly more than a year, is seen by some as a possible harbinger of European disunity, a turning point for greater isolation between the 17 eurozone members. Others see it as a necessary spur towards deeper integration.
Prime Minister George Papandreou framed today's vote in historic terms and together with new finance minister Evangelos Venizelos, a heavyweight in the ruling Pasok party, pushed through the package and also avoided defections that could have brought the government down.
---