French journalists return home after Afghanistan hostage ordeal [VIDEO]
Hervé Ghesquierè and Stéphane Taponier were joyously welcomed home after 547 days as hostages of the Taliban.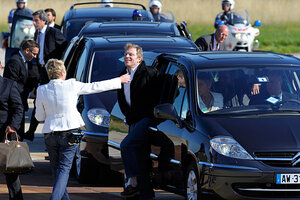 Philippe Wojazer/Reuters
Paris Hervé Ghesquierè and Stéphane Taponier
Joy came to France this morning as the last two journalists held hostage under war conditions arrived home after 547 days in Taliban captivity. They said the ordeal raised their awareness of other hostages held "everywhere in the world."
Hervé Ghesquierè and Stéphane Taponier of France 3 television started reporting in Afghanistan while embedded with a French military unit and were abducted in 2009 in the Kapisa Valley after visiting a town without the protection of troops, in order to get an authentic take on the area.
Today the two landed at a military air base outside Paris amid throngs of French journalists and hugged each other and family, answering questions in an ebullient moment. "We're doing really, really, really well," said Mr. Taponier, a cameraman who has worked in Gaza and Lebanon. "We stayed optimistic."
When French Prime Minister Francois Fillon announced yesterday the release of the two at the National Assembly, that body erupted in a standing ovation. France has a famed tradition of patriotic emotion on the return home of captives. The release of a French-Colombian celebrity politician, Ingrid Betancourt, after six years held in the jungle brought a day of celebration two years ago.
---