In World Cup semifinal, US spirit tops French finesse
Despite long stretches of domination by France, the US national team reached its third WWC final thanks to late goals by Abby Wambach and Alex Morgan.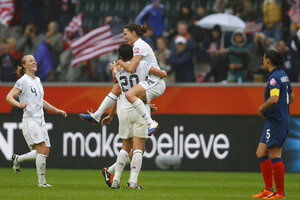 Ina Fassbender/AP
For the third time in women's soccer history, the US national team made it to the finals of a World Cup, beating France 3-1 in the round of the last four at the FIFA tournament in Germany. It wasn't an easy win.
"Historically seen, this is David versus Goliath," a German TV commentator introduced the game in Mönchengladbach. "But if you look at the performances so far in this tournament, this is a match of equals."
The next 80 minutes made this statement appear slightly flattering – for the American team. Because the US, two-time World Cup winners and three-time Olympic champions, had a hard time for large parts of the match against soccer nobodies France, who have no title to show and took part in the World Cup finals for the second time only.
The US started strong, scoring through Lauren Cheney in the 9th minute. But then France gathered pace, playing the technically impressive, tactically efficient style that brought them into the semifinals. France duly equalized in the 55th minute and, dominating the game, looked like a winner.
---