Germany's trouble with abandoning nuclear power
Now that Germany is turning away from nuclear power, it is more reliant on renewable and traditional energy sources – both of which comes with problems of their own.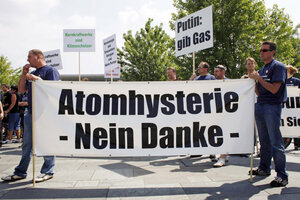 Bob Strong/Reuters
Before Germany decided to shutter its 17 nuclear power plants by 2022, few had ever heard of Hotzenwald, a nature preserve at the southern tip of the Black Forest, in the prosperous state of Baden-Württemberg. Now, as the government retreats from nuclear energy in favor of renewables, many will watch this bucolic spot as the testing ground for Germany's ambitious green future.
And there is already trouble in paradise. Local Greens party leaders and residents are fighting a plan to transform a ridge overlooking the Swiss Alps into a hydropower electricity storage facility – a project that would destroy hundreds of acres of natural splendor.
"If you slice the top of a mountain and empty it like a breakfast egg, it's such an assault on the landscape that you jeopardize the very existence of this area," says Greens party parliamentarian Ruth Cremer-Ricken from nearby Bad Säckingen.
But experts say the €1.2 billion ($1.7 billion) storage project is a crucial piece of Germany's energy transformation. "It may be a problem for nature, but we have to decide what we want. If we don't build it, we won't be able to have more renewable," says Frank Musiol of the Baden-Württemberg Center for Solar Energy and Hydrogen Research in Stuttgart.
---