Expanding Murdoch scandal claims second Scotland Yard officer
Two senior Scotland Yard officers have now resigned over a scandal at Rupert Murdoch's News of the World tied to bribing police and illegally hacking into cellphone messages.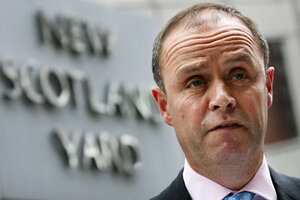 Lewis Whyld/PA/file/AP
Britain's phone-hacking scandal stayed in overdrive Monday following the arrest of Rebekah Brooks, former editor of the News of the World (NotW) and the resignation of Britain's top police official, Sir Paul Stephenson, who left amid allegations he employed expensive News Corporation operatives to advise Scotland Yard.
A scandal that began at a tabloid owned by Rupert Murdoch has seeped into and around 10 Downing Street and now appears to be unsettling the London police department. London police commissioner John Yates, who was in charge of a 2006 investigation into illegal telephone intercepts by NotW, also resigned today.
Prime Minister David Cameron today said he is cutting short his visit to Africa and will extend parliamentary sessions to accommodate the crisis. Mr. Cameron's political future has been clouded by the scandal, since he employed since-arrested former NotW deputy editor Andy Coulson.
---