Norway massacre likely to ramp up monitoring of right-wing groups
Norway massacre: Right-wing parties have distanced themselves from Anders Behring Breivik's violent methods, whose attacks killed 76 people. But many share his basic views on immigration and minorities.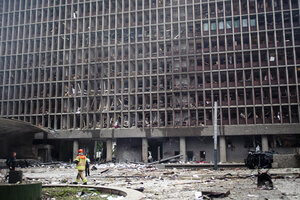 Fartein Rudjord/AP
Ideological far-right fellow-travelers of Anders Behring Breivik are rushing to distance themselves from the Norwegian killer's carefully planned murder spree – even as many of these groups defend their own often virulent anti-Muslim and anti-immigrant viewpoints as reasonable.
Groups ranging from the "Gates of Vienna" blog to the English Defense League to the Netherlands Freedom Party of Geert Wilders that seeks to ban the Koran from the country, among others, issued clear denunciations of violence to achieve political ends.
But the sudden appearance of a murderous and crusading figure who sees himself as a martyr for Judeo-Christian European civilization is expected to ramp up surveillance by intelligence services of a far-right culture that has grown and flourished in the greenhouse of the Internet, analysts say.
Mr. Breivik's killing of 76 persons in Oslo and the island of Utoya – authorities have revised down the death toll – may indeed have struck a severe, immediate blow to the far right in Europe, which in recent years has sought to cultivate a more moderate profile attractive to mainstream voters.
"How do I feel about knowing that the assumed perpetrator of these atrocities has quoted me in his much-talked about book? Absolutely terrible," says blogger "Fjordman" on the Gates of Vienna website.
---