London riots: Residents demand tougher policing after third night of burning, looting [VIDEO]
London riots continued for a third night Monday and spread to other cities, causing Prime Minister David Cameron to cut short his holiday and hold crisis talks.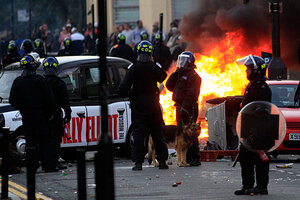 Lefteris Pitarakis/AP
After a third night of rioting rocked London and spread to other cities, British Prime Minister David Cameron sought to assure the public that the authorities were on top of the situation.
"People should be in no doubt that we will do everything necessary to restore order to the streets and to make them safe for the law abiding," said Mr. Cameron after cutting short his holiday in Italy. "This is criminality pure and simple and it has to be confronted and defeated."
Cameron said he will chair an emergency committee aimed at halting the widespread violence and also announced that all police leave in the capital was canceled. But for many residents and business owners of affected neighborhoods, it's too little too late. As they take stock of the damage, they are wondering why police haven't done more to stop the rioters and are demanding a tougher response.
"This is absolutely disgusting what these kids are doing. Back in Jamaica, the police would not stand for it and would be hitting and shooting these thugs, and then throwing them into a prison cell with 20 others," says Sharon Brown, who works in Clapham Junction, south London, where rioters looted shops and torched a store. "We're too soft on these kids and give them too many rights. My daughter's 18 and I'd never let her out in this – so why are other parents?"
---
Follow Stories Like This
Get the Monitor stories you care about delivered to your inbox.