London riots spread to northern cities as police issue stark warnings [VIDEO]
While a massive police showing seems to have largely deterred a fourth night of rioting in London, three youths died after being hit by a car during riots in Birmingham.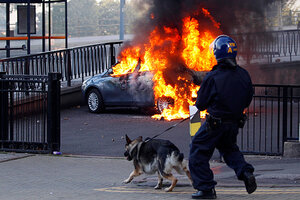 Darren Staples/Reuters
Riots that started in London spread to several English cities last night with widespread looting and arson leading to scores of arrests.
As a massive police presence in the capital appeared to quell unrest there, youths in major cities including Manchester, Birmingham, Liverpool, Bristol, Leicester, and Wolverhampton took to the streets robbing main-street stores and attacking officers.
A senior Manchester police official, Assistant Chief Constable Garry Shewan, said 110 people were arrested overnight in the city and in neighboring Salford and that officers were already sifting through CCTV camera images today to identify looters.
"Already today we have begun the process of arresting people whose images have been captured on CCTV and other media," he said in a stark warning to troublemakers. "My message is extremely simple: Hundreds and hundreds of people, we have your image, we have your face, we have your acts of wanton criminality on film. We are coming for you [starting] today, and no matter how long it takes, we will arrest those people responsible."
Three youths die in Birmingham riots
---