Russia, in swift about-face, recognizes Libyan rebels
The Kremlin opposed NATO's air war and called for negotiations between the rebels and Qaddafi. But its concern about keeping billion-dollar contracts with Libya seems to have caused the switch.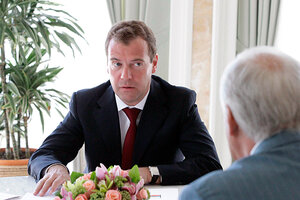 Mikhail Klimentyev/RIA Novosti/Kremlin/Reuters
Russia has been one of the loudest critics of NATO's air war against forces loyal to Muammar Qaddafi over the past six months.
But on Thursday Moscow suddenly pushed the mute button on its criticism, joined a Paris conference of some 60 nations aimed at consolidating support for the victorious anti-Qaddafi insurgents, and surprised many by extending immediate official recognition to Libya's rebels as the country's only legitimate government.
"The Russian Federation recognizes the Transitional National Council of Libya as the ruling authority and notes the program of reforms announced by it, which envisions developing a new constitution, holding general elections and forming a government," the foreign ministry said in a terse statement posted on its website Thursday.
In recent weeks Moscow had urged the rebels to seek a negotiated settlement with Mr. Qaddafi, and President Dmitry Medvedev suggested earlier this week that Russia might withhold official recognition from the TNC until it demonstrated an ability to unite Libyans and control the country's whole territory.
---