James Murdoch retakes center stage in phone hacking scandal
Former News of the World executives testified today that James Murdoch was aware that phone hacking at the now-defunct tabloid was more widespread than he claimed to know.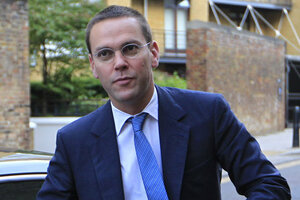 Sang Tan/AP/File
Two ex-executives from Rupert Murdoch's News of the World tabloid, shut amid Britain's spiraling phone hacking scandal, testified Tuesday that Mr. Murdoch's son, James, knew more about voicemail tampering at the tabloid than he admitted at a July Parliament hearing.
Now, the younger Murdoch, who oversees European and Asian operations for his father's media empire News Corp., may be recalled to Parliament, adding yet another chapter to the scandal that erupted after it was revealed that NotW hacked into the voicemail of teenage murder victim Milly Dowler.
"It is crucially important that we find out when senior executives knew about the hacking and what was done or not done," says Mark Lewis, the lawyer representing Ms. Dowler's family. "I think it's inevitable that James Murdoch will have to reappear before the committee because his evidence contradicts what's been said today."
As well as another uncomfortable and potentially embarrassing grilling at the hands of British lawmakers, Mr. Murdoch could technically face a fine or imprisonment if he is found to have lied to a select committee. The House of Commons views being misled as "contempt of the house," although no one has been fined since 1666 and the last person to be temporarily detained was in the 19th century.
Despite the damage to News Corp.'s reputation with the departure of senior executives such as Les Hinton, and the collapse of the firm's planned bid for the remainder of British broadcaster BSkyB, the phone hacking scandal still poses more danger for Rupert Murdoch and Co.
---