Nord Stream pipeline gives Russia edge in European gas wars
Russia's Nord Stream pipeline bypasses Ukraine, which transports about 80 percent of Russian gas exports to Europe, and could give Moscow greater political leverage in dealing with Kiev.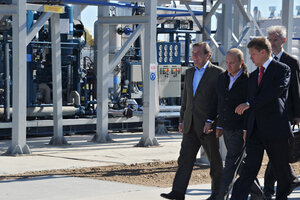 Alexei Nikolsky/RIA Novosti/AP
Moscow has a new trump card in its recurring conflict with Ukraine over the price of gas and transit fees for using Ukrainian pipelines, which has caused two crippling shutdowns of Russian gas to customers in western Europe over the past decade.
It's called Nord Stream, a $12 billion pipeline under the Baltic Sea, that began this week delivering Russian gas directly to Moscow's primary customer, Germany. The new route threatens to render obsolete the vast Soviet-era pipeline networks owned by unpredictable "transit states" like Ukraine and Belarus, and potentially multiplies Moscow's leverage in future dealings with them.
Prime Minister Vladimir Putin threw the switch at a pumping station in Vyborg, Russia, on Tuesday, to send the first gas surging into the system. He couldn't resist taking a crack at Ukraine, which is currently disputing a 2009 contract with the Russian state-run gas giant Gazprom that makes it pay European prices, and at Belarus, which has also played pipeline politics against Moscow in a bid for cheaper gas.
---