Greek government in desperate battle to avert default
Prime Minister Papandreou canceled his US trip and hinted at further austerity measures after Europe's 'troika' of experts expressed doubt about the Greek government's plans to avoid default.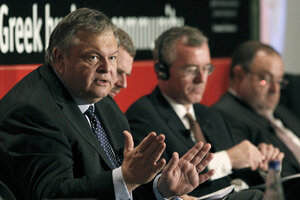 Petros Giannakouris/AP
The Greek debt crisis reached a new climax this weekend when Prime Minister George Papandreou, already en route to the US where he was due to meet IMF chief Christine Lagarde and other top officials, canceled his visit to return to Athens and chair an emergency cabinet meeting on Sunday. The surprise move is seen by observers as an attempt to prevent the ever-growing risk of a sovereign default and to keep a grip on an increasingly nervous Greek parliament.
Mr. Papandreou's decision followed the news that the so-called "troika" – European Commission, European Central Bank, and International Monetary Fund – would not send its experts back to Greece on Monday, as planned. The verdict of these experts on whether Greece is on schedule with its plans to reduce debts, cut spending, and reform the bureaucracy is crucial for more financial aid to be released. The next loan tranche of 8 billion euros ($11 billion) out of the first Greek bailout package will only be paid if the troika is satisfied, but without it, Greece will run out of money by October.
---