Scotland university fee plan riles the English
A Scottish government plan to charge UK students outside Scotland full tuition while providing a free education to Scotland-based students prompts accusations of inequality and discrimination.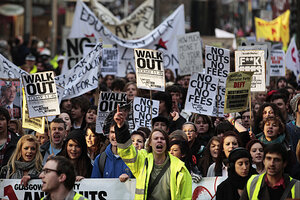 David Moir/Reuters/File
Longstanding antagonism between England and Scotland over generous government provisions has been inflamed by new university tuition policies laid down by nationalists in the Scottish parliament.
While free health prescriptions and generous at-home care provisions for the elderly in Scotland previously highlighted the differences between Scotland and England, prompting accusations that London subsidizes Edinburgh's vote-catching policies, it is university tuition discrepancies that have brought the issue to the fore.
Beginning next year, UK universities, including those in Scotland, will be able to charge as much as £9,000 (roughly $14,000) for tuition. However, under its devolution powers, Scotland has opted to continue offering a free education to Scotland residents who have lived there at least three years and students from the European Union, while charging English, Welsh, and Northern Irish students the full cost.
The Scottish government said the fees decision is largely a defensive strategy to prevent large numbers of English students from crossing the border and enjoying cheaper courses subsidized by the Scottish government, now that education elsewhere in the UK is about to become so costly. Nearly 23,000 English students study in Scottish universities every year.
---