Seat warmer: Russia's Medvedev stepping aside for 'more popular' Putin
Dmitry Medvedev admits a deal was made in which he would hold onto the presidency until Putin was constitutionally allowed to return to office. Medvedev's supporters are not amused.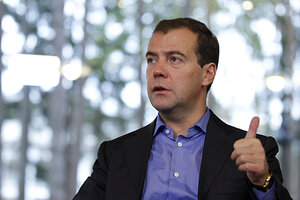 Dmitry Astakhov/Presidential Press Service/RIA Novosti/AP
Incumbent Russian President Dmitry Medvedev broke nearly a week's silence Friday on why he meekly stepped aside and allowed Vladimir Putin to take the ruling United Russia party's presidential nomination – which virtually guarantees Mr. Putin's victory in elections next March.
His explanation: Putin is more popular.
"Prime Minister Putin is definitely the most authoritative politician in our country and his rating is somewhat higher [than mine]," Mr. Medvedev said in remarks broadcast on all major Russian TV networks and published in full on the Kremlin's official website.
At a convention of United Russia last weekend, Medvedev ended years of speculation by nominating Putin to be the party's standard bearer. Since the Kremlin-backed United Russia traditionally deploys vast resources to ensure its desired result, and any serious opponents are winnowed from the ballot well in advance, there seems little doubt that former President Putin is set to return for one, and probably two, six-year terms that may see him dominating the Kremlin until 2024.
In his acceptance speech, Putin stunned even some hard-boiled Russia observers by admitting that he and Medvedev had cooked up this plan "several years ago," apparently as a way of keeping Putin's chair warm while he sidestepped the Russian Constitution's ban on any single person serving more than two consecutive terms as president.
---