Amanda Knox makes final plea before Italian appeal decision (video)
'I did not kill, I did not rape, I did not steal. I was not there,' Amanda Knox told the Italian court set to rule later today on the appeal of her 26-year prison sentence for Meredith Kercher's murder.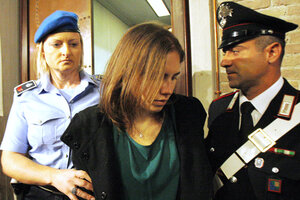 Antonio Calanni/AP
Amanda Knox gave the speech of her life today, tearfully appealing to an Italian court to quash the 26-year prison sentence she received after being found guilty of murdering her British flatmate.
In an emotional 10-minute address, the American told the six jurors and two judges who now hold her fate in their hands that she was innocent of the crime.
"I did not kill, I did not rape, I did not steal. I was not there," she said, her words ringing out around the medieval, frescoed courtroom where her appeal has been heard over the last 11 months.
At their original trial in 2009, Ms. Knox and her former boyfriend, an Italian computer studies graduate named Raffaele Sollecito, were found guilty of sexually assaulting and murdering Meredith Kercher in her bedroom in Perugia, an historic hill town in Umbria, central Italy.
They were also convicted of stealing two mobile phones belonging to the British student, as well as around 300 euros in cash.
They have both steadfastly protested their innocence and were allowed to address the court shortly before the jurors were led into chambers to begin their deliberations.
Her voice shook and she choked back tears as she pleaded with the court to overturn her guilty verdict and allow her to be reunited with her friends and family in Seattle.
---