Putin's United Russia: Communist Party clone or modern democratic force?
Gorbachev calls it a 'bad copy' of the Communist Party. But the United Russia party has relentlessly trounced any serious opposition to Putin, who is now running for president again.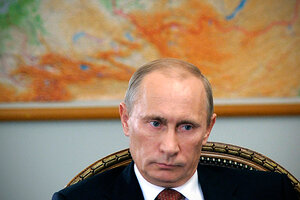 Yana Lapikova/RIA Novosti/AP
In any discussion of Russian politics the elephant in the room is always United Russia, the electoral juggernaut founded a decade ago to herd fractious elites into a single tent and give them a unified goal: Support Vladimir Putin.
Though Mr. Putin receives most of the attention, the party he founded, and until quite recently led, has moved from strength to strength. In two major election cycles since Putin first came to power in 2000, United Russia has swept most regional legislatures, squeezed the liberal opposition out of the Duma, and won a two-thirds majority that enabled it to amend the Constitution – to increase future terms of office for the president and Duma deputies.
Putin appears so confident of victory that he easily relinquished his leadership of United Russia at the party's convention last month in return for its nomination for presidential elections slated for March. Incumbent President Dmitry Medvedev, who may be prime minister in the next Putin administration, was handed the task of leading the party into the December polls. He is the one who will likely get the blame if UR fails to hold on to its huge majority.
"Our campaign is going well, and we see support picking up around the country," says Vladimir Medinsky, a member of the party's central council and a Duma deputy. "Of course Putin is more popular, but we think having Medvedev at the top of our ticket this time will attract more liberal people, the youth, people interested in modernization."
Mr. Medinsky says UR's main causes can be summed up as "for Putin and development" of the country.
---