How the militant ETA lost support among Basques
Spaniards are savoring the prospect of an end to ETA's Basque separatist terrorism. Basques have increasingly rejected the armed struggle of ETA, while still supporting other pro-independence groups.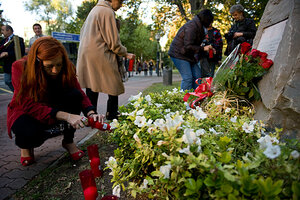 Alvaro Barrientos/AP
For the first time in decades, Spaniards are savoring, some incredulously, the prospect of a country without Basque separatist terrorism, perhaps the only remnant of more than a century of political violence that has included civil wars, brutal repression, and a fascist dictatorship.
Spirits are cheerful, victorious even, but the realization of a long road ahead is settling in. Spaniards know that while a return to violence is unlikely, it's not impossible.
ETA, which has fought for an independent Basque territory, has been politically undermined and become broadly unpopular in the past few years. The group might be defeated, but Basque support for pro-independence parties and demands for self-determination have not subsided.
On Thursday, three hooded militants announced a "definite cessation of its armed activity." But the group, which has killed 829 people in the 51 years since it was founded and the 43 years since killing became part of its strategy, has not renounced its goal of creating an independent country out of two Spanish regions and a sliver of southern France that it considers the Basque fatherland.
The announcement came exactly one month before general elections, and included a call for France and Spain to open direct negotiations "with the aim of addressing the resolution of the consequences of the conflict and, thus, to overcome the armed confrontation." That will inevitably involve resolving the issue of hundreds of jailed ETA militants and expanding on an already ample autonomy for the Basque region that includes separate taxes, police, healthcare, and education systems.
---