As Putin rises again, will the US-Russia 'reset' of ties hold?
Vladimir Putin's return to center stage has sharpened criticism by American critics of the US-Russia 'reset' that improved relations. US critics see an effort to revive a Soviet-style rivalry.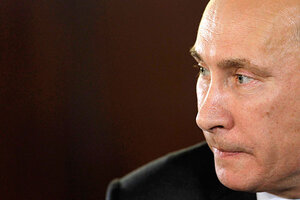 Denis Sinyakov/Reuters
Russia's foreign policy community is watching with growing nervousness as leading Republicans in the US, including at least one top contender for the party's presidential nomination, turn their ire against Barack Obama's already troubled "reset" in US-Russian relations, which the Kremlin sees as vital to its future plans for repairing Russian influence in the world.
Republicans have been critical all along of Mr. Obama's policy of building strong, practical relations with Moscow while soft-peddling US disapproval of Kremlin power abuses and human rights violations. But as recently as last December, more than a dozen Republican senators joined Democrats to win the needed two-thirds Senate ratification of the START nuclear arms reduction accord, which was understood in Moscow as a sign that pragmatism would always prevail in Washington.
Now, Russian experts do not seem so sure.
Since former president Vladimir Putin decided to shoulder aside his hand-picked successor, Dmitry Medvedev, and seek a fresh term as Russia's supreme leader, the tone of discussion about Russia in the US has grown much harsher, many note.
---