Euro debt crisis: Is Brussels deal just buying time?
The euro debt crisis deal reached in Brussels is stirring cautious optimism in the Asian and European markets. But the specifics have yet to be worked out.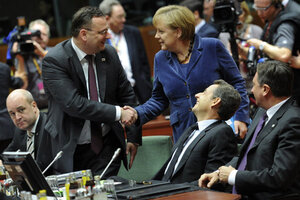 Geert Vanden Wijngaert/AP
After an all-night emergency meeting in Brussels – the second within four days – Europe's leaders have decided on a range of measures that may build confidence globally that the eurozone is getting a grip on sovereign debt and can find a way out of the crisis.
But while the plan gave observers and global financial markets reason for cautious optimism, the measures' success will turn on the specifics.
"This is a big step in the right direction," says Thomas Huertas, former head of European Banking Authority. "The details, though, will have to be worked out now by finance ministers, regulatory authorities, and the banks."
Bold numbers
Europe's leaders had to find agreement on three main issues to overcome the worst crisis in over 60 years: To increase significantly the firepower of the eurozone's bailout fund, the EFSF; to involve private creditors in the restructuring of Greek debt to a much higher degree than previously planned; and to persuade European banks to accept an unpopular recapitalization program designed to enable them to withstand future write-offs of sovereign debt within the eurozone.
On the face of it, Europe's leaders came up with bold numbers. Banks and other private creditors agreed to write off 50 percent of Greece's debt – worth about 100 billion euros ($140 billion). This should help Greece to decrease its debt rate from 160 percent now to 120 percent in the year 2020. On top of that, the country will receive another 100 billion euros in loans from European institutions within the next three years.
"The whole exercise of the summit was to bring credibility and stability back into the system," says Ulrike Guerot, senior research fellow at the European Council on Foreign Relations. "They held 14 summits since the beginning of the crisis and not one of them managed to convince the markets. So this time they had to be bold."
To prevent banks from coming under pressure themselves when writing off a portion of the debt of Greece or other potential candidates, the EU has asked them to increase their rate of capital resources from currently four to nine percent. According to the European Banking Authority they have to raise 106 billion euros, which they are supposed to get at financial markets. If the banks are unable to raise the capital, they can turn to national governments for help, and as a last resort to the eurozone bailout fund, the EFSF.
---