Greek referendum call stuns EU. Could it topple Papandreou?
European politicians reacted angrily and financial markets slid after Greek Prime Minister Papandreou stunned Europe with the announcement of a Greek referendum on latest aid package.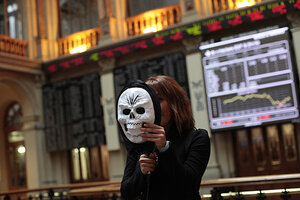 Susana Vera/Reuters
Greek Prime Minister George Papandreou dropped a political bombshell Monday evening when he announced that Greek voters would get to say if they are willing to accept the rescue package agreed on by European leaders last week.
At a meeting of his party's parliamentary group, Mr. Papandreou said there would be a vote of confidence on his government later this week and a referendum on the latest bailout package for Greece. He did not specify when the referendum was to be held or what the exact question put to Greek voters would be.
In Europe's capitals, the announcement – coming after an EU emergency summit last week agreed on loans worth 130 billion euros ($177 billion) and a 50-percent debt write-off – caused angry reactions from EU politicians and new nervousness at financial markets.
But will Papandreou's government even survive to hold the Greek referendum? Observers in Greece are doubtful.
"I don't think there will be a referendum," says Panagiotis Korliras, professor at the Athens University of Economics and Business. "I rather think the Papandreou government will fall, maybe as early as this week."
Europe's politicians stunned, 'dismayed'
French President Nicolas Sarkozy is reported to be "dismayed," according to French newspaper Le Monde. Later today he will discuss the Greek move in a phone call with German Chancellor Angela Merkel. Sweden's Foreign Minister Carl Bildt said he had a hard time understanding what exactly Greek voters would be asked to vote on.
---