Neo-Nazi cell shines light on far-right extremism in Germany
Neo-Nazi bank robbers found dead last week are suspected in Germany's worst case of racially motivated killings. Their confessional tape reveals a current of right-wing extremism that politicians have long denied.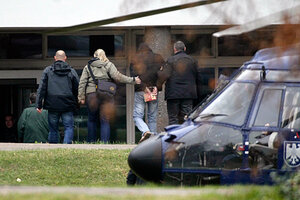 Wolfgang Rattay/Reuters
Ten days ago, police in the town of Eisenach in southeast Germany found the scarred bodies of two men with gunshot wounds to the head in a burned-out recreational vehicle. At the time, it looked like a double suicide of two bank robbers who had just stolen 10,000 euros at gunpoint from a local bank and then been cornered by officers.
But new information, trickling out on an almost-daily basis, has since revealed to a baffled public that these men were likely Germany's most wanted serial killers, responsible for a string of racially motivated murders, and also members of a far-right terrorist network.Until very recently, many German politicians denied the network existed.
After the Berlin Wall came down, there was a surge of right-wing activity, particularly in eastern Germany. Far-right parties tapped into people's worries and insecurities, resulting in a number of violent attacks on ethnic minorities and political opponents. But increasing prosperity diminished the ideological basis for the far right – weakening the resonance of such rallying cries as "German jobs for German workers." The far right still features in regional parliaments, but does not play as significant a role as it did 20 years ago.
"It seems that we are dealing with a new form of right-wing extremist terrorism," Interior Minister Hans-Peter Friedrich said yesterday. Chancellor Angela Merkel called it a "national shame" and said the events revealed the existence of extremist structures "we had not imagined" when speaking with reporters yesterday. Germany's minister of justice, Sabine Leutheusser-Schnarrenberger, asked authorities "to investigate with all means possible the dimensions far-right networks in the country have reached."
---