Marred by ties to Qaddafi's son, top London university pledges change
The London School of Economics agrees to act on a report critical of its ties with Saif al-Islam, Muammar Qaddafi's son, who gave the school £1.5 million upon getting his PhD.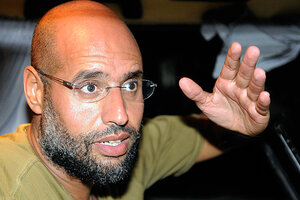 Paul Hackett/Reuters
One of the UK's most prestigious universities has pledged to act on a report highly critical of the school's close financial ties to Libya and the son of its fallen dictator, Muammar Qaddafi.
The London School of Economics (LSE) said it would adopt all 15 recommendations made by former Lord Chief Justice Lord Woolf to tighten its ethical safeguards after it accepted a £1.5 million ($2.34 million) donation from Saif al-Islam, former LSE student and Mr. Qaddafi's son.
Saif studied philosophy at the London university between 2002 and 2008, and on the day he was awarded his doctorate, he announced the donation from the Gaddafi International Charity and Development Foundation.
But the gift was widely criticized, with students staging a number of protests over links with the Qaddafi regime. There were also concerns about the extensive "outside assistance" Saif received on his doctorate work, including unproven rumors of plagiarism.
In March, Sir Howard Davies, the LSE's director, resigned after a UK newspaper revealed his extensive links with Libya. It was reported that he had previously taken on a role as Tony Blair's economic envoy to Libya and as an adviser to a Libyan government investment fund. It was also revealed that the LSE had signed a £2.2 million ($3.4 million) deal to train the Libyan civil service.
After Sir Howard's resignation, the LSE's governing body commissioned Lord Woolf to investigate. In the 188-page report entitled "An inquiry into LSE's links with Libya and lessons to be learned," Lord Woolf made 15 recommendations, among them a tighter code of ethics, a review of the donations policy, and clearer rules on what outside help a postgraduate student can and cannot receive.
---