Russia protests: Moscow rocked by biggest since fall of USSR
Tens of thousands of Russians took to the streets of Moscow today over electoral fraud in the biggest protests to hit the capital since the breakup of the Soviet Union.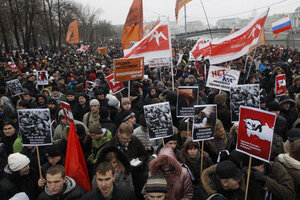 Mikhail Metzel/AP
If there was any doubt that significant numbers of Russians are ready to tear up the Putin-era social contract, which exchanges political freedom for relative prosperity, it was dramatically dispelled Saturday.
Ignoring ranks of riot police with unmuzzled dogs, gusting snow, and accusations by Vladimir Putin that protesters are dupes of the United States
tens of thousands of Muscovites poured into Bolotnaya Square, across the river from the Kremlin, to vent their anger at alleged fraud and vote-rigging on behalf of the ruling United Russia (UR) party in last weekend's parliamentary elections
Many wore white ribbons, the symbol of the burgeoning anti-fraud movement that erupted onto Moscow streets last Monday after the official vote tally showed UR winning almost 50 percent of the votes, which puts it on track to dominate the State Duma for the next five years.
In pictures: Russian's protest Putin.
Though counts ranged from a police estimate of about 20,000 to up to 100,000, there is no doubt that it was the largest protest rally seen in the Russian capital since the collapse of the USSR twenty years ago.
In a rare show of solidarity, virtually the entire spectrum of Russia's usually fractious opposition parties was present, including the Communist Party (which officially won 19.2 percent of the votes), the social democratic Yabloko (3 percent) and the liberal Party of People's Freedom, which had been banned from taking part in the elections altogether.
But the vast majority of participants appeared to be youthful, regular Russians with no political affiliation, who were turning out to protest for the first time in their lives.
---