Doubts mount as Europe struggles with next steps in euro crisis
European stocks as well as the euro dropped as optimism from last week's euro crisis summit yielded to tough questions about the EU's ability to avert fresh crises.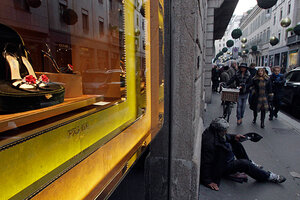 Luca Bruno/AP
A new "fiscal union" treaty engineered by Germany to confront the euro crisis came with historic overtones last week. But whether the deal can staunch the immediate crisis facing Italy, Greece, and Spain is unclear as this week a slightly sour mood settled over the Continent.
Governments including Ireland, Sweden, Hungary, the Czech Republic, Finland, and The Netherlands face questions about ceding budgetary sovereignty to the European Union. It is a week so far of strikes over austerity, lackluster growth forecasts, doubts about German Commerzbank, and a continued flirting by Italy with a prohibitive 7 percent borrowing rate figure for both five- and 10-year bonds. The euro today dropped to a near-one-year low on fears of ongoing instability, while London's FTSE-100 index lost more than 2 percent and France's CAC-40 index fell more than 3 percent.
---