Despite convictions, UK's Stephen Lawrence case still not fully resolved
New information about the other suspects in Stephen Lawrence's murder, as well as a complaint about the sentences for the two men found guilty, means the racially explosive case is not yet settled.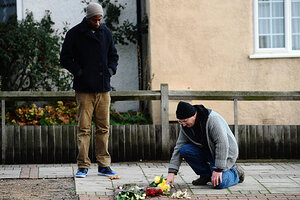 Ian West/AP
A controversial racist murder case was wrapped up in court after almost two decades yesterday. But today, the case seems far from over. The sentences of the two found guilty of Stephen Lawrence's death are being reevaluated, and new information has emerged that could help police track down three more suspects.
The racially-motivated murder of black teenager Stephen Lawrence in 1993 had a far-reaching effect that prompted a review of Britain's police forces and subsequent changes in many of policing methods. Mr. Lawrence was standing at a bus stop in southeast London when he was fatally stabbed by a group of young white men hurling racist comments at him.
The Metropolitan Police, London's police force, announced today that detectives on the case have received five calls with potentially new information about the night Lawrence was killed.
Despite the conviction of two of the men responsible, Gary Dobson and David Norris, the Met is under pressure to secure convictions of three friends of Mr. Dobson and Mr. Norris. The judge presiding over the case and Lawrence's parents, Doreen and Neville, have urged the police to continue investigating the murder amid news reports that the detective team assigned to the case will be disbanded. The Met's spokesman has denied the team was being dissolved.
The initial investigation was heavily criticized, prompting an inquiry and report that branded the police "institutionally racist," leading to a major overhaul of British policing practices.
At a press conference today, Met Police Commissioner Bernard Hogan-Howe urged the public to help the police catch the remaining killers. "The other people involved in the murder of Stephen Lawrence should not rest easily in their beds," he said. "We are still investigating this case and I would just like to take this opportunity, if anybody out there has any more information or any evidence, even after all this time, please tell us then we'll do the rest."
---