Why Britain and Argentina are tussling, again, over the Falklands
Britain's decision to send a new, more powerful warship to the Falkland Islands has ignited a long-simmering territorial dispute that came to war decades ago.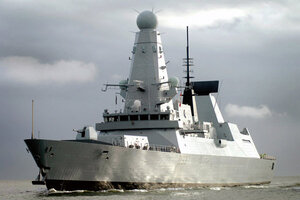 MoD/Crown Copyright/Reuters
Decades of sharp exchanges between Britain and Argentina escalated this week as Argentina reasserted its claim to the Falklands Islands, a territory about 300 miles off the Argentine coast that has been ruled by Britain since 1833. Britain responded, as it always has, that it has no intention of giving the islands up.
Today, as the 30th anniversary of the two nations' war over the South Atlantic's Falklands approaches, tensions have risen, with Britain accusing Argentina of "colonialism" for pursuing its claim.
On Jan. 30, Britain announced it was deploying the destroyer HMS Dauntless to the South Atlantic, replacing a less powerful warship that is there now. Today Prince William, second-in-line to the British throne, began his Royal Air Force posting to the Falklands – arriving, as many Argentineans saw it, in "the uniform of the conqueror," even though he is flying a search-and-rescue helicopter.
The Royal Navy denies either move is significant, saying it has long had a presence in the South Atlantic and the replacement of one warship with another is "routine."
---