Why Russia is so opposed to asking Assad to go
Russia is taking a hard line against a UN resolution asking Syrian President Assad to step down, saying the possibility of military intervention must first be ruled out.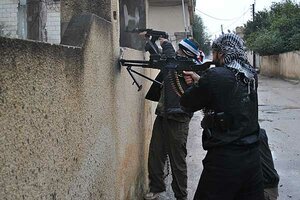 AP
Russia has warned that there is "no chance" it will allow passage of a resolution on the spiraling domestic conflict in Syria, due to come before the UN Security Council in the next few days, if it leaves even the slightest opening for outside intervention in the crisis.
Moscow's tough line on the issue has put it increasingly at odds not only with the West, but also many Arab states who support a resolution put forward by Morocco that would demand Syrian leader Bashar al-Assad step aside and hand power to his deputy as a first step toward a democratic transition. According to the UN, more than 5,400 people have died in an increasingly brutal crackdown since pro-democracy protesters first took to the streets almost a year ago.
The Syrian government blames the violence on armed "terrorists" affiliated with Al Qaeda, who it says have killed more than 2,000 security personnel since the uprising began.
"This [draft resolution] is missing the most important thing: a clear clause ruling out the possibility that the resolution could be used to justify military intervention in Syrian affairs from outside," Russia's envoy to the European Union, Vladimir Chizhov, was quoted by Russian news agencies as saying Wednesday.
"For this reason I see no chance this draft could be adopted," he added.
---