Russia says it offers alternative path to peace in Syria
Russian Foreign Minister Lavrov said he convinced Assad to make concessions, but Russian experts say his visit to Damascus was more about saving face for Russia than ending the violence.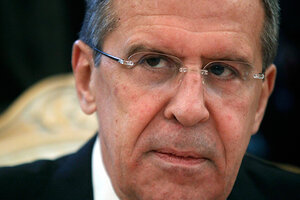 Mikhail Metzel/AP
Russian diplomacy can offer an alternative path to civil peace in Syria, if only the West will give it a chance, Russian Foreign Minister Sergei Lavrov said Wednedsday after a visit to Damascus in which he met with Syrian leader Bashar al-Assad.
Mr. Lavrov said he convinced Mr. Assad to hold an open dialogue with all political forces in his embattled country, and to agree to hold a national referendum on a new constitution for the country.
"It's clear that efforts to stop use of force must coincide with a declaration of dialogue between all political forces," Lavrov said. "Today we have received confirmation of the Syrian president's readiness to work toward this task."
But even Russian foreign policy experts say that the visit was more about damage control for Russia, which last week vetoed a UN resolution that called for taking stronger action against Assad. They say it is unlikely to appease the West, which is increasingly weighing backing the rebels militarily.
"The only success we can discern in Lavrov's visit to Syria is that Russia showed that it is trying to solve the conflict and that even if it vetoed the Security Council resolution, it still wants to play an important role," says Georgy Mirsky, an expert with the official Institute of World Economy and International Relations, which trains Russian diplomats.
---