As Greece awaits bailout, southern Europe seethes
European governments are expected to sign off on a second bailout for Greece today. But conditions set on rescue money have fueled populist unrest in southern Europe.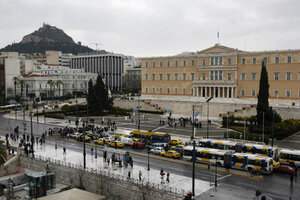 Yannis Behrakis/Reuters
The mood is growing surly in the south of Europe as austerity measures take hold. With unemployment at 20 percent in some countries – and youth unemployment as high as 50 percent – warnings are growing sharper about a troubling rise of populist feeling.
The current chaos in Greece presents a vivid example.
Ahead of a key March deadline, the Greek government agreed – after much political agonizing and protesters' torching of dozens of buildings throughout Athens – to a number of cuts demanded by the European Union and International Monetary Fund in exchange for a bailout necessary to remain solvent. Minimum wages and public jobs will be cut. More taxes will be raised and collected. Greece will cede a substantial amount of economic sovereignty to international lenders.
Many Greeks are aware they hold a lion's share of the blame for their predicament. But the effect of ongoing screw-tightening by Germany, the growing admission throughout Europe that Greece is poised to default, and the Greeks' inability to see a way out of the crisis has deepened discontent and humiliation.
In the days leading up to the Feb. 13 government approval of the latest rounds of cuts, Greeks in the streets accused their leaders of betrayal for acceding to international lenders' demands. They compared the government to the military dictatorship that ruled the country until the mid-1970s.
---