Putin: US seeking 'absolute invulnerability'
In a piece published yesterday, a few days ahead of elections, presidential candidate Vladimir Putin took a tough stance on several foreign policy issues that will put Russia at odds with the US.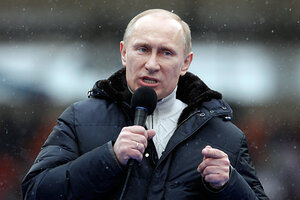 Alexander Zemlianichenko/AP
A more world-weary and mistrustful Vladimir Putin appears set to return to Russia's presidency in polls slated for next Sunday.
Mr. Putin's hardening suspicions toward the West in general, and the US in particular, are on full display in the latest of the lengthy policy manifestos that have comprised the main substance of his campaign over the past two months.
In this one, a 6,060 word missive published in the state-owned weekly Moskovskiye Novosti yesterday, he lays out a foreign policy vision that suggests a fresh chill in US-Russia relations may follow his return to the Kremlin. Already Moscow is moving to block Western initiatives in the Middle East, drawing a tougher line on US plans to install an anti-missile shield in Europe, and seeking to strengthen ties with the East, especially China.
His main foreign policy concern is that Russia is being encircled by NATO expansion into former Soviet territory and its strategic nuclear deterrent is threatened by US missile defense plans.
---