In powerhouse Germany, salaries for women lag behind
According to an OECD report published this week, women working full-time in Germany make 21.6 percent less than men and hold substantially fewer top business positions.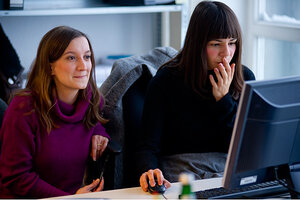 Ann Hermes/The Christian Science Monitor/File
Inequality in pay between men and women remains high in Europe, and nowhere on the continent is the gender pay gap bigger than in Germany. The disparity has reinvigorated a debate in Germany and across Europe about how to bring working women into parity with men.
A new study by the Organization for Economic Cooperation and Development (OECD) published this week shows that, on average, German women working full-time earn 21.6 percent less than their male counterparts. The OECD median of 34 member states is 16 percent, with Norway at the top of the list. Women in the Scandinavian country get paid only 8.4 percent less than men. Even Greece, Europe's economic problem child, has a much smaller pay gap than Germany at 9.6 percent.
There's a variety of reasons for Germany's position, according to Elke Holst, an expert on gender economics at the German Institute for Economic Research in Berlin. "Germany has a relatively high participation of women in the labor market. Many of the jobs taken up by women are low-pay, often part-time employments. In countries where the participation of women is low, mainly highly-skilled, well-paid women enter the job market."
---