Biggest debt restructuring in history buys Greece only 'a bit of time'
Private investors agreed to write off 85.8 percent of Greece's private debt, but analysts warn that if Greece doesn't address underlying problems, the deal will not fix things for long.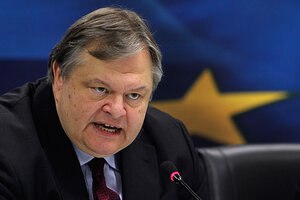 Thanassis Stavrakis/AP
Greece has succeeded in pushing through the biggest sovereign debt restructuring in history, with 85.8 percent of those holding private Greek debt agreeing to join a debt write-off deal, according to the Ministry of Finance in Athens.
The deal cuts Greek debt by around €105 billion ($138.8 billion) – about half of the country's private debt – and clears the way for Greece's second international bailout package, this one worth €130 billion ($173 billion). European finance ministers said today that they would immediately release the first tranche of the funds, worth €35 billion ($46.2 billion).
While European leaders welcomed the deal, analysts warn that it only buys Greece a bit of time to address the underlying problems.
"We have achieved an exceptional success," Greek Finance Minister Evangelos Venizelos told the parliament today. "I believe everyone will soon realize that this is the only way to keep the country on its feet, and give it the historic second chance that it needs."
EU Monetary Affairs Commissioner Olli Rehn called the terms of the agreement "very satisfying," and German Finance Minister Wolfgang Schäuble said, Greece was "not out of the woods yet, but on a good way."
---