Spain leads Europe's rebellion against German austerity
Prime Minister Mario Rajoy told EU officials that Spain would not meet its deficit target for 2012. Other countries, struggling to avoid further recession, may follow suit.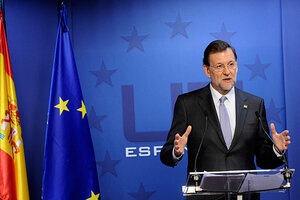 Thierry Charlier/AP
Europe's economic crisis is moving to the less predictable national political arenas, where country leaders are struggling to balance draconian austerity with the dire need for growth. Facing populations that are losing patience with worsening economic pain and an economic picture that has failed to improve, leaders are beginning to defy demands from Brussels.
Leading the rebellion of sorts against the European Union's mandated all-cut-and-no-growth strategy is Spain, the focus of market concerns. Spain's economy is too big to bailout and the country has been among the most supportive of austerity measures.
"Now more than ever it's imperative that we distance ourselves from delusional proposals, that we deal with realistic figures, and that we implement policies accordingly," said conservative Prime Minister Mariano Rajoy yesterday in an address to European delegates of the People Party, which governs in most of Europe. "Only this way can we strengthen confidence [in policies] among citizens, our partners, and the markets."
Mr. Rajoy was explaining why he defied the EU and abandoned Spain's commitment to cut its 2012 deficit equal to 4.4 percent of gross domestic product, recasting it at 5.8 percent. He left the 2013 binding target of 3 percent unchanged.
---