East Germans unite: Joachim Gauck elected president
Both Germany's new President Joachim Gauck and Chancellor Angela Merkel hail from the former communist East Germany, marking a turning point in the country's reintegration efforts.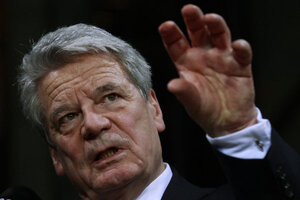 Thomas Peter/Reuters
When members of the federal assembly in Berlin cast their votes today, Germany not only elected a new president but marked a turning point in the country's post-cold war struggle for integration of East and West Germany.
With Joachim Gauck as president and Angela Merkel in the chancellery, the country's two top political positions will for the first time be held by people from the former communist East Germany.
The shift in German society is one that some argue has long been overdue, while others are surprised at its early arrival.
"While the Catholics in Germany's south and west celebrated carnival, East German protestants took over power in far-off Berlin," wrote former German Foreign Minister Joschka Fischer in an Op-Ed in Süddeutsche Zeitung after Gauck's candidacy was announced in February.
After reunification in 1990, career politicians and civil servants from the West took over most influential positions in government on both the federal and state level. Then-Chancellor Helmut Kohl shunned the East German civil rights campaigners who had driven the protest that led to the fall of the Berlin Wall. His party colleague Max Streibl, prime minister of Bavaria at the time, recommended the "amateurs" should return to their former jobs.
---