War-ravaged Chechnya shows a stunning rebirth - but at what price?
Billions of dollars in aid from Moscow have helped to rapidly rebuild Chechnya – and President Ramzan Kadyrov has been given free rein to rule with an iron hand in exchange for peace.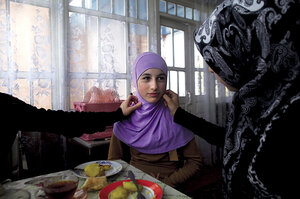 Diana Markosian
The part of Europe most thoroughly wrecked and ravaged by war in the past six decades, Chechnya, has undergone a stunning transformation from ruin to rebirth in the space of a few short years.
Chechnya's regeneration has been all the more remarkable for passing largely unnoticed in the West, where images remain fresh of its capital city, Grozny, as a smashed moonscape that was often compared to Stalingrad after World War II.
But today, thanks to billions of dollars in Kremlin aid, downtown Grozny now features broad avenues – including one named after Russian leader Vladimir Putin – lined with luxury boutiques and new glass-fronted skyscrapers. Many of the city's once-shattered residential neighborhoods now boast clusters of graceful high-rise apartment blocks. Grozny's airport is totally refurbished and hosts daily flights to Moscow and other Russian cities. Where mine fields and piles of rubble dominated the city's center just six years ago, the marble-lined Akhmad Haji Kadyrov mosque – reputedly the largest mosque in Europe – now towers over the landscape with its four 197-foot minarets.
But experts say that all this physical progress has come at a high price. In exchange for peace, they say, the Kremlin has turned Chechnya over to President Ramzan Kadyrov, who runs the mountainous republic of about 1.3 million people as if it were his private fiefdom.
"Chechnya is now a nearly sovereign state within the Russian state; what goes on there would be impossible in any other part of Russia," says Sergei Arutyunov, a Caucasus expert at the official Institute of Ethnology and Anthropology in Moscow. "It's extraordinary that Kadyrov is able to be absolutely independent in his decisionmaking, while he is simultaneously completely dependent on the Kremlin for his funding. Chechnya survives thanks to vast subsidies from Moscow, yet Russian authority scarcely exists there."
---